Accommodation & Camping
We have a self-contained, four bedroom, brick homestead and plenty of places for freedom camping (campervans or tents) - clothed or au naturel. (Note that during December & January peak work periods make camping impractical.)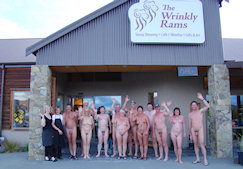 Nude dinner - Omarama - 26 – 28 Oct
27th Oct: Join our nude dinner at the Wrinkley Rams café & winebar.
28th Oct - Enjoy a very relaxing few hours at the Hot Tubs Omarama and a finger lunch. Contact us by 8th Oct!
Our farm
We offer the great outdoors with country accessible for tramping, mountain biking, hunting, swimming holes in the creek, and 4wd tracks to explore. Certainly, prior contact is essential, and we look forward to making you most welcome.
In the hills of South Canterbury you'll find an unparalleled opportunity for nude tramping, hot-tubbing, hunting, shooting and fishing. Not to mention boating, 4WDriving, trail-biking and an annual restaurant visit!
03 436 0442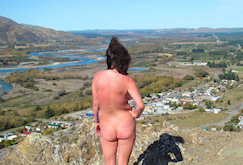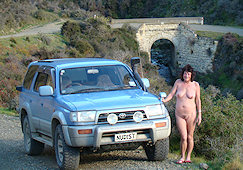 4WD
Over the years we've organised, or helped with; 4wd trips including SAR, Rotary club and other groups that want to come though this area. We have naturist club day trips and, after the second weekend of February, an annual, week-long naked over-lander trip. In 2013 it will be in South Canterbury & Central Otago. Contact us.
You can buy your own ('portable', locally made) hot tub for around $5000!
Hunting & Fishing
The farm has a variety of animals for hunting: quail, wallabies, rabbits and the occasional pig. The Hakataramea River, good for fly-fishing; is only 5 km away. Being adjacent to the Waitaki Valley the whole area is a sportsman's paradise from water sports on the Waitaki Lakes to truly scenic tracks for walking or driving.