Gisborne
Kaiaua Beach
Just north of Tolaga Bay - drive to the far end of the road and walk across the creek at the farmer's gate. (But it's usually deserted...)

Cheating a bit with this one - taken during a Gisborne rally in the early 80s
Hawkes Bay

Ocean Beach
(lookout)
This view north is from the lookout over the beach. It is a little historic now: the prominent tree in the foreground has gone. The main nude area is about 400m north of the surf lifesaving club at the end of the road down from this lookout.
Ocean Beach, from the lookout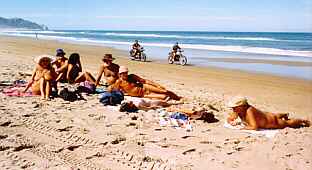 Ocean Beach
Although in the main holiday periods there tends to be a preponderance of textiles around (often arriving in 4WDs) on hot days, nude use is still evident - and more to the point: no problem!
Ocean Beach, close up
Waimarama Beach
The domain is near the trees on the left of the couple. (Although 15 km further from Hastings, Waimarama is more popular with the textiled, than Ocean Beach.)
The domain is near the trees to the left of the couple's shoulders
---
Home
Overview
Top