Papamoa Beach

In marked contrast to St Leonards, the outcome of complaints about Papamoa's 'nude zone' have been sensibly handled by both the council and the police. Late in 2002, there was a community meeting! The local police have been patrolling the dunes behind the beach and the beach-goers on the sand are very appreciative.
One view of the first Friends' & Family Day, February 2000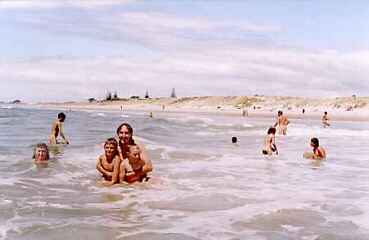 The advent of the boardwalk (near Sandhurst Drive; ie: about 2/3 the way along the nude zone from the Girven Rd end), has enhanced access to the beach. However, some people now prefer to park in Sunbrae Ave, then walk east, clear of the houses.
(On the beach, except in the case of adverse weather, setting up anywhere other than on the sand below the dune edge, is specifically discouraged due to the complaints which that generates.)
A happy scene at the Friends' & Family Day 2006

Naturist-only accommodation is available at Katikati Naturist Park, about 30 minutes drive west, toward Waihi.
Typical numbers from the 2004 Friends' & Family Day
Omanu Beach
Over the last few years, discreet use of Omanu Beach, about half way between the Papamoa 'nude zone' and Mt Maunganui, has also been noted.

Along Omanu Beach, clothes-free use is usually a little more discreet than suggested here...
---
Home
Overview
Top