The Nambassa Story
- page

3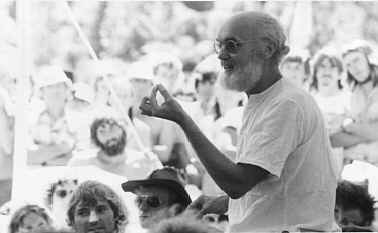 It seems to me that these festivals point clearly to two types in the wider community: those that know only their own 'self' (me) and those that have discovered the unifying: 'Self' (I). Awareness of the singularity, Self; gives rise to the spiritual recognition that 'we are all one' - a true freedom. 'Control' is no longer seen as a personal, dominating need. Knowing only one's own self leaves the individual open to the generic fear of 'other' - making 'control' (of other's selves) a perceived necessity. In the playground, it's called bullying. This sort of message was delivered by some high profile gurus who showed up. (Whatever happened to Baba Ram Das, I wonder...) I have sometimes been fascinated by the personal fear exhibited by an isolated, patched gang member when confronted by an isolated, confident Naturist. They simply turn and run! When it comes to a weight of numbers, though, it is the head-count which tends to hold sway.
Feature acts like Split Enz, lead the nightly raves - and were inclined to attract the heavies! So there were occasional incidents to spoil the day; or evening, in our case. A rather uncomfortable night trying to sleep in the car was the result of our little group all heading off on the quest for free hot soup, during a main stage interval on the first night. We gave no thought to guarding our sleeping bags. After telling police next day that we'd seen some gang members with the bags, a sole mufti cop conducted a low profile negotiation with said gang, and the remaining night was rather more comfortable, for us. That's what I call 'police power' - not the laws of dubious necessity they insist on pushing for these days. The police appear to no longer see themselves as a part of our community; only theirs. We are now other: Tazer fodder.

Being able to enjoy the summer with thousands of others in a carnival atmosphere wasn't spoiled either, by that other group with a penchant for control: the evangelical Christians! Actually, they seemed a bit overwhelmed by the real love and happiness already abounding; which must have made it somewhat harder for them to proclaim a point of difference...
Among the great variety of those attending one might occasionally discern some of 'the usual suspects' like Tim Shadbolt (now where did he get to...). But there were other compelling sights, like an aboriginal, complete with boomerang, in the semi-bling version of an L Ron Hubbard outfit. Wherever one looked, there seemed to be a continuous parade of the itinerant - purveyors of snacks and treats - escapees from the mud-bath - always something of interest for someone.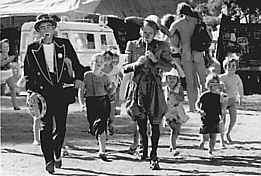 It was great to see the kids not forgotten in the planning. They had a supervised, shady sandpit; or clowns to find and a Pied Piper to follow. But that was in the days way before cell-phones made keeping tabs on the kids, um, easier.
Apart from a random collection of wandering minstrels, the special kids' stage was an ever-popular attraction for them.