The Nambassa Story
- page

4
It was interesting to note how the various stages didn't interfere with each other, visually or aurally. During the day we tended to have the 'dad's bands' on - big ones like Roger Fox; while many little stages featured the array of folk singers.
One of the pleasant discoveries at the last event, held by a river, were ethereal tunes issuing from the depths of the bush, occasionally. (There was no accessible bush on the previous two Nambassas which were held near the beach.) I found I wasn't alone in finding pleasant bits of bush to be a lovely escape from the heat of the day.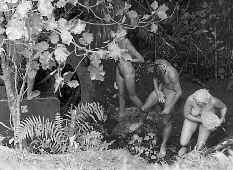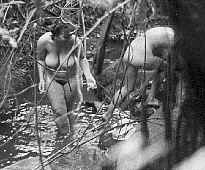 Accessible bush also meant an availability of streams and creeks in lieu of more formally provided ablution arrangements.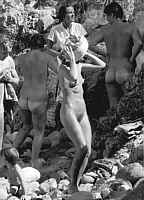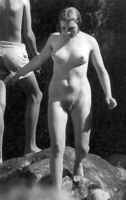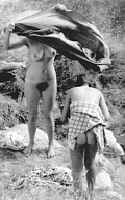 Driven by the discomfort of a crusty salt layer from the beach or from working up a decent sweat from bopping by a stage, it wasn't a long time before quite an impressive array of curious washing options and venues were unearthed.
For the shy, there were some (more or less) screened showers - though no hot water, as I recall. But at a place like this there would always be alternatives. Though where those of an inventive bent found the alkathene pipe and the wood to devise their handy contraptions, was one of life's little mysteries that we just have to live with.